Almost 30
Jul 15 11:40 PM
Dez Bryant is 29. 30 in November.
---
Averaging 10 touchdowns a season
Jul 15 1:47 PM
That is what Doug Baldwin has done over the last three years.
---
The Colts as good as the Patriots and Eagles
Jul 15 11:50 AM
In their first 11 games of 2017, the Colts lead at halftime in eight of them. The only other two teams in the NFL last year to do so…were the two teams that made the Super Bowl.
---
DeAndre Hopkins somehow better
Jul 14 4:31 PM
DeAndre Hopkins scored more fantasy points per game with Tom Savage as his quarterback, than he did with DeSean Watson.
---
Cooper still very young
Jul 13 1:57 PM
Amari Cooper is only six months older than rookie Calvin Ridley.
---
Phillip Rivers OUTSTANDING!
Jul 06 1:58 PM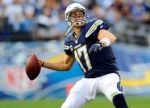 In the past DECADE...Phillip Rivers hasn't finished as a top 10 QB ONCE...
---
Doug Baldwin has lowest drop rate since 2015
Jul 06 2:13 PM
Seahawks receiver Doug Baldwin has the lowest drop rate among NFL receivers since 2015.
---
2018 Leagues Up and Running!!!!!!!
Jun 21 2:43 PM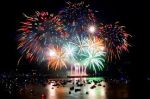 Our 2018 fantasy football leagues are NOW UP AND RUNNING!!!!!!! And for now we are offering a 3% discount off of all entry fees, for anyone who chooses to take advantage of our eCheck payment option! We are so looking forward to this season, and hope to have you participating in our leagues!

---
Keenan Allen makes history
Dec 04 3:54 PM
Keenan Allen became the first player in NFL history with at least 10 catches, at least 100 yards, and at least one touchdown in three straight games.
---
Matthew Stafford - 20 straight completions
Dec 04 11:27 AM
Matthew stafford completed a team record 20 straight passes yesterday vs. the Ravens
---
Denver Broncos - most passing touchdowns allowed in the NFL
Dec 01 11:10 AM
That's right, believe it or not, the Denver Broncos have allowed the most passing touchdowns out of any team in the NFL this year. As a matter of fact, they have allowed two more than any other team.
---
We can guarantee you wouldn't guess this in a million years...
Nov 18 10:20 AM
Antonio Brown is the only receiver with more double digit PPR games since Week 4 of last season than Rishard Matthews.

---
Eagles Astounding Run D
Nov 16 3:26 PM
The Philadelphia eagles are giving up 383 yards on the season so far, against the rush.
The second best team against the rush, is the Minnesota Vikings, who have given up 649 yards so far, on the season.
---
BREAKING NEWS - DeShaun Watson, Torn ACL?
Nov 02 4:57 PM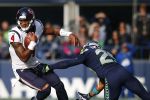 Simply AWFUL news. The Houston Texans fear Deshaun Watson tore his ACL in practice today. Awful, awful, AWFUL news for THE breakout player of the year, and a seemingly great human being.

---
Panthers trade wideout Kelvin Benjamin to Bills
Oct 31 4:38 PM
The Panthers have traded the former 2014 first-round pick to the Bills in exchange for a 2018 third-rounder and a seventh-rounder, NFL Network Insider Ian Rapoport reported, per a source informed.

---
Zeke Elliott Can Play Again
Oct 17 7:56 PM
Okay, at this point, who knows what will happen next. Never seen anything like it with the back and forth, and ups and downs. At this point, just reporting the news - Zeke can play this weekend.
---
Deshaun Watson Making History
Oct 17 10:07 AM
Deshaun Watson has 15 touchdown passes in his first six career games, which ties the record for most ever by a player within that time frame. The other two, Mark Rypien in 1988 and Kurt Warner in 1998.
---
Jeremy Maclin Inactive
Oct 15 11:47 AM
Jeremy Maclin is a little bit of a surprise inactive today.
---
Chris Hogan and Odell Beckham
Oct 13 2:20 PM
That is the entire list of players since 2014 who have had four games straight of 60 yards and a touchdown.
---
Sammy Watkins
Oct 12 5:23 PM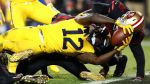 Sammy Watkins scored 22.6 fantasy points in his blow-up game vs. the 49ers. He has scored a COMBINED 2.63 points in the other 4 games...
---
| | |
| --- | --- |
| Total 55 posts | Page of 3 Prev | Next |