FOLLOW US ON TWITTER! @BestFantasyFL
Aug 21 1:44 AM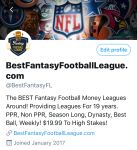 We post there the most often, that's the best place for breaking news and fantasy tidbits…
---
More on the Antonio Brown issue…
Aug 19 8:30 AM
See attachment.
---
DK Metcalf Needs Surgery
Aug 18 11:51 PM
Per Pete Carroll. However he is saying that he won't be out long. Though certainly one would imagine at least a couple of weeks of the regular season.
---
BREAKING - Antonio brown not at camp
Aug 18 6:01 PM
Mike Mayock just came over to us with a statement, that Antonio Brown is not in Raiders camp over frustration with his helmet issue. Mayock said the Raiders have been supportive but have exhausted options. They need to know, per Mayock, "if he's all-in or all-out." - Scott Bair, NBC sports bay area
---
Case Keenum to start week one?
Aug 18 4:12 PM
It's down to Keenum and rookie Dwayne Haskins because Colt McCoy (leg) isn't expected to be ready for weeks. Haskins will need a strong third preseason game to receive the start Week 1, but even if he doesn't get the starting nod, we should see plenty of Haskins in 2019. Keenum is nothing more than a veteran bridge quarterback and the Redskins view Haskins as their franchise quarterback. - per ESPN's Adam Schefter
---
BREAKING NEWS - Marqise Lee off Pup and Practicing
Aug 17 2:05 PM
Roughly a year from tearing his ACL, Jaguars WR Marqise Lee is off the PUP list and practicing today, per coach Doug Marrone.

---
BREAKING - Josh Gordon reinstated
Aug 16 6:48 PM
NFL is reinstating Patriots' WR Josh Gordon, league source tells ESPN.
---
Chris Carson to get 2/3 of the workload?
Aug 14 3:11 PM
"Rashaad Penny will be involved but he's the (#Seahawks) clear No. 2 in the 1-2 punch between him and Chris Carson. I anticipate Carson taking at least two-thirds of the workload." Via @Joe_Fann:
---
Drake Out For Remainder Of Preseason
Aug 14 3:09 PM
"Until (Kenyan) Drake returns, the (Dolphins) starting running back job belongs to (Kalen) Ballage, who ripped off another long touchdown run in Wednesday's practice."
Drake questionable for Week 1 with a right foot injury:
---
Not shocking, but Andrew luck may not be ready for week 1
Aug 13 8:00 PM
Colts aren't ready to determine whether Andrew Luck will or won't be ready for a Week 1 start; plan right now is to calm the ankle pain down.
---
Broncos' Theo Riddick suffers shoulder fracture
Aug 11 4:02 PM
Will be out the rest of the preseason, and should miss a couple of weeks of the regular season as well.
---
Antonio Callaway Suspended First 4 Games
Aug 10 1:09 PM
Browns WR Antonio Callaway has been suspended 4 games for violating the NFL's substance abuse policy, according to NFL Network's Ian Rapoport. Callaway has already unsuccessfully tried to appeal the ban. Callaway has been running behind WR Rashard Higgins in training camp. Higgins will open the season as Cleveland's #3 WR.

---
Antonio Brown In Limbo
Aug 10 1:05 PM
Raiders WR Antonio Brown is threatening to walk away from football unless he can wear his preferred helmet, per ESPN's Adam Schefter. Brown claims the new helmet makes it harder to catch the ball. He tried to convince league officials to let him wear his old helmet during a 2-hour conference call on Friday. According to Schefter, "a decision could come as early as next week."

---
Adam Humphries Heavily Targeted
Aug 09 10:57 AM

The Tennessee Titans WR Adam Humphries was targeted on 6 of Marcus Mariota's 8 attempts in their presesaon game last night, in only one series.

---
BREAKING NEWS - Duke Johnson Traded To Texans
Aug 08 11:38 AM
Boom, there it is.
---
Jaylen Samuels has been a "significant part of the offense"
Aug 05 4:03 PM
The Athletic's Mark Kaboly reports that Jaylen Samuels has been a "significant part of the offense" so far in Steelers camp.
Samuels' role comes as James Conner has apparently been handled with kid gloves in an effort to keep him healthy and fresh. Per Kaboly, Samuels has been OC Randy Fichtner's "Christmas toy that he didn't learn to play with until the following year." Kaboly reports Samuels has been used both as the backup running back and an offensive weapon who can "can line up just about everywhere." Regardless of Conner's usage, Samuels is sounding like someone who could have standalone fantasy value in PPR leagues.
---
Texans waived RB D'Onta Foreman
Aug 04 10:15 AM
Texans waived RB D'Onta Foreman.
It's a shocker as some were expecting Foreman, a former Doak Walker Award winner at Texas, to push Lamar Miller for top billing in Houston's backfield. Longtime beat reporter John McClain of the Houston Chronicle believes the Texans were unsatisfied with Foreman's "work habits," noting that coach Bill O'Brien "wasn't happy" with what he had seen from him in training camp. Foreman's departure leaves Houston extremely thin at running back with Josh Ferguson, Karan Higdon, Buddy Howell and Taiwan Jones among names vying for backup duties behind Miller. Foreman, who barely played last year following a 2017 Achilles tear, should land on his feet quickly.
---
Julio Jones - 80 catches, 1400 yards - 5 straight
Aug 01 3:27 PM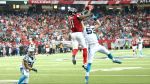 Falcons WR Julio Jones has at least 80 catches and 1400 yards receiving over the last FIVE seasons...

---
AJ Green out 6 to 8 weeks
Jul 28 3:28 PM
Rough news for the Bengals: WR AJ Green has has torn ligaments in his left ankle and is expected to miss 6-8 weeks, per @AdamSchefter.
---
A.J. Green was carted to the locker room
Jul 27 4:15 PM
A.J. Green was carted to the locker room with an apparent left foot injury Saturday.
It appears to be a legitimate injury, as Green was on crutches leaving the facility. Green talked with team doctors on the sideline before standing up, punching the bench, yelling in frustration, and then hopping on a cart to head inside. Green has never had any issues with his left foot in the past, as both previous toe injuries were to his right foot. Either way, we hope Green has avoided anything serious here. He was poised for a rebound year in coach Zac Taylor's offense. We'll provide an update when one is available.

SOURCE: Albert Breer on Twitter


---
| | |
| --- | --- |
| Total 221 posts | Page of 12 Prev | Next |