Zeke Elliott Can Play Again
Oct 17 7:56 PM
Okay, at this point, who knows what will happen next. Never seen anything like it with the back and forth, and ups and downs. At this point, just reporting the news - Zeke can play this weekend.
---
Deshaun Watson Making History
Oct 17 10:07 AM
Deshaun Watson has 15 touchdown passes in his first six career games, which ties the record for most ever by a player within that time frame. The other two, Mark Rypien in 1988 and Kurt Warner in 1998.
---
Jeremy Maclin Inactive
Oct 15 11:47 AM
Jeremy Maclin is a little bit of a surprise inactive today.
---
Chris Hogan and Odell Beckham
Oct 13 2:20 PM
That is the entire list of players since 2014 who have had four games straight of 60 yards and a touchdown.
---
Sammy Watkins
Oct 12 5:23 PM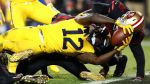 Sammy Watkins scored 22.6 fantasy points in his blow-up game vs. the 49ers. He has scored a COMBINED 2.63 points in the other 4 games...
---
BREAKING NEWS - A.P. Traded To Arizona Cardinals!
Oct 10 11:50 AM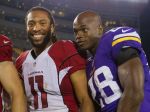 Adrian Peterson has been traded to the Arizona Cardinals. Innnnnnnteresting...
---
Kareem Hunt - Doing an NFL First
Sep 27 6:54 PM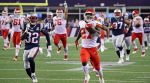 Kareem Hunt is the first player in NFL history to score a TD of 50 yards or longer in each of their first 3 games.
---
Carson Wentz - ready for a regression??
Sep 22 10:02 PM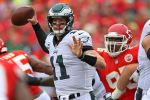 Carson Wentz has apparently been getting pretty lucky this season. According to Pro Football Focus, Wentz has 9 turnover worthy plays. That is 3 more than any other quarterback.
---
SAM BRADFORD EXPECTED TO MISS WEEK 3
Sep 22 12:57 PM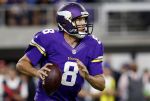 Sam Bradford is expected to miss week 3.
---
Quick roundup of yesterday's injuries to major players...
Sep 18 7:15 PM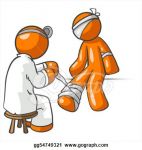 Greg Olsen will be out 6-8 weeks, as he's undergoing surgery on his broken foot.
Corey Coleman is out 4-6 weeks with a broken hand.
John Brown is expected to miss week 3 as well.
Andrew Luck has already been ruled out for week 3.
---
ODELL READY TO ROLL!!!!! ACTIVE WEEK 2 VS. THE LIONS
Sep 18 7:09 PM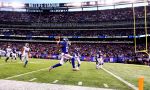 The ODB show will be ON Tonight, on Monday Night Football, as Beckham will be ACTIVE for the game tonight. Be fun to see how healthy he is, and if he can get loose.
Unless of course you're playing AGAINST him this week... 😜
---
EDDIE LACY INACTIVE
Sep 17 3:20 PM
Eddie Lacy is INACTIVE for today's game vs. the 49ers.
---
BREAKING NEWS - NOTABLE PLAYERS OUT WEEK 2
Sep 17 11:58 AM
Sam Bradford.
John Brown.
Danny Amendola.
Blaine Gabbert.
That last one was a big one, so we wanted to make sure we got that to you, hot off the presses…
😉😉😉😉😉😉😉😉😉😉
---
Ben Roethlisberger at Home...
Sep 16 3:14 PM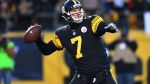 Averaged an ASTONISHING 27.6 point per game last year at home. CRAZY.
---
The two fastest players in week 1 were...
Sep 16 1:26 PM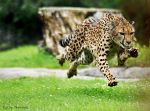 Both Kansas City Chiefs players. Can you guess 'em?? You can probably guess one - Tyreek Hill. The other? Kareem Hunt. They were 1 and 2 in week 1 at highest top speeds hit. With, believe it or not, Hunt - not Hill - being the highest top speed in week 1.
---
INJURY ROUNDUP; WEEK 1...
Sep 12 4:37 PM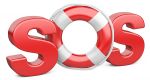 Okay, quick injury roundup for week 1...
*** Allen Robinson, WR of the Jags is lost for the year. Torn ACL. Marquise Lee is probably the biggest benefactor. Perhaps Allen Hurns. No hard recommendations for you here.
*** Bears WR Kevin White just can't escape the injury bug, unfortunately. Looks to be out for the year as well with a fractured scapula. Perhaps look at Kendall Wright as a waiver wire option now.
*** Danny Woodhead is expected to miss 4-6 weeks. Javorius Allen had a very nice game last weekend once Woodhead was out. Worth a look if you're looking for some RB depth.
---
BREAKING NEWS - DAVID JOHNSON OUT 2-3 MONTHS
Sep 12 11:50 AM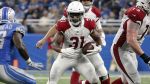 Sorry, bad news to pass on, Arizona Cardinals RB David Johnson is out 2 - 3 months, due to surgery on his wrist. Now as far as whom to snag in the AZ backfield...that's a dang good question. Kerwyn Williams got the most carries in Johnson's absence. However, Andre Ellington had way more snaps. Of course a lot of those were passing down snaps, where Ellington excels. Also, this just in, but looks like the Cards will actually resign CJ2k, aka, Chris Johnson.
---
BREAKING NEWS - EZEKIEL ELLIOTT COULD PLAY ALL YEAR
Sep 08 9:37 PM
Boy things changed fast in a day. Ezekiel Elliott was granted a preliminary injunction, and his 6 game suspension is on hold, until the matter is finally settled in court. This is extremely similar to what happened with Tom Brady two years ago, and he ended up being able to play all season, as the case was not completed until the next season. So at this juncture, it is altogether possible Zeke plays all year.
---
JONATHAN WILLIAMS RELEASED BY BILLS
Sep 03 2:18 PM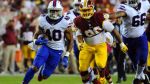 This is interesting and surprising news, back up running back Jonathan Williams has been released by your Buffalo Bills. LeSean McCoy can be a bit injury prone, so supposed new #2 running back in Buffalo, Joe Banyard, may be worth a waiver pick up, or later round draft pick now.
---
WILLIE SNEAD SUSPENDED 3 GAMES
Sep 01 5:48 PM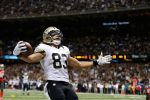 New Orleans Saints wide receiver Willie Snead has been suspended for the first 3 games of the season, for violating the league's personal conduct policy. Teddy Ginn was already running with the first team offense in two wide receiver sets, this boosts his value even more. #underrated

---
| | |
| --- | --- |
| Total 40 posts | Page of 2 Prev | Next |