BREAKING NEWS - Josh Gordon traded to Patriots
Sep 17 4:29 PM
Ironically former brown alum Corey Coleman was released to make room for Gordon.
---
Two NFL records set yesterday…
Sep 17 9:36 AM
Patrick Mahomes has 10 touchdown passes through two weeks, the most ever by an NFL quarterback through two games. And Michael Thomas set the league record for most catches in the first two weeks of the season with 28.
---
Brees 16 for 17 targeting Thomas in week 1
Sep 12 10:38 AM
Drew Brees completed 16 of 17 passes when targeting Michael Thomas in week 1.
---
Cleveland off to best start since 2004!
Sep 11 3:29 PM
...as they had lost their last 13 season-openers.
---
Greg Olsen to miss "a significant chunk of time."
Sep 11 12:38 PM
Panthers TE Greg Olsen will be out for awhile with a foot injury.
---
Jeremy Hill Torn ACL
Sep 10 3:34 PM
Out for the year. Tough news.
---
Delanie Walker Done For The Year
Sep 10 2:11 PM
Unfortunately Delanie Walker will be out for the year with multiple leg injuries.
---
Kenneth Dixon expected to miss "some time"
Sep 10 1:54 PM
Just breaking. Not sure how long, but passing it on.
---
What a crazy, high scoring, eventful weekend!?!?!?
Sep 10 11:44 AM
And this is why we love fantasy, my friends. This is why we love fantasy. By our recollections, this will be the highest scoring fantasy weekend ever. And on that note, a bit of advice - don't get your head too high in the clouds if your team was amazing this week. Week two has a way of humbling many. And conversely, don't condemn yourself as the worst fantasy GM ever, if you had a bad weekend.
---
Odell Beckham Number 1
Sep 07 1:15 AM
Odell Beckham has averaged more yards per game (94.1) than any other player in the Super Bowl era.
---
Matt Ryan 1 for 21 targeting Julio
Sep 07 1:16 AM
Matt Ryan is 1 for 21 targeting Julio in the end zone over the last two seasons. That's the opposite of "blackjack!"
---
12 carries
Sep 04 12:57 AM
That was the most carries that Alvin Kamara had in a game last season.
---
How many games has Eli Manning missed in his career due to injury?
Sep 03 9:15 AM
Zero.
---
Antonio Gates Is BAAACCKKKKKKK
Sep 02 11:54 AM
We aren't saying you should OR shouldn't draft him, just letting you know - he's baaacckkk. Just signed with the Chargers.
---
BREAKING NEWS - Jerick McKinnon, Torn ACL, Out For Season
Sep 01 6:56 PM
In just awful news, Jerick McKinnon has torn his ACL, and will be out for the 2018 season.
---
Martavis Bryant Cut; Facing Suspension
Sep 01 4:46 PM
Raiders have cut Martavis Bryant, who is also allegedly facing a suspension now.
---
Jerick McKinnon "Concerning" Injury??
Sep 01 4:06 PM
NFL Network's Ian Rappaport is reporting that 49ers RB Jerick McKinnon an injury in Saturday's workout that is being described as concerning.
With a bunch of drafts going on today, we are just passing this on. Could be nothing. Could NOT be nothing. We don't know yet. This is just breaking.
---
Who led the NFL in rushing last five games of 2017?
Aug 29 10:13 AM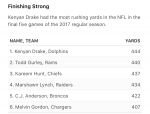 Kenyan Drake, with a nice symmetrical 444 yards rushing.
---
Alshon Jefffery to miss first two weeks of regular season
Aug 28 5:03 PM
Eagles WR Alshon Jeffery is expected to miss at least the first two games of the season, but the team will activate him to the 53-man roster this weekend with optimism he could be back by week 3, per Chris Mortensen and Adam Schefter.
---
Marquise Lee Out For The Year
Aug 27 11:36 AM
As expected given the severity of the hit he took in his last preseason game, Jags WR Marquise Lee is out for the year. Sad news, and we wish him all the best.
---
| | |
| --- | --- |
| Total 90 posts | Page of 5 Prev | Next |