Saquon Good To Go?
Jun 22 12:38 PM
For those of you worried about the New York Giants offense this year, if you lopped off 20% of Saquon Barkley's fantasy production from last year, he would've still been RB5.

P.S. Saquon's a cat.
---
Evan Engram Ballin'???
Jun 22 12:11 PM
New York Giants TE Evan Engram did not top 75 yards receiving in the 11/12 games he played with Odell Beckham in 2018, but topped 75 yards in the 4 games he did NOT play with him.

---
Who was the fastest player in the NFL last year??
Jun 20 12:26 PM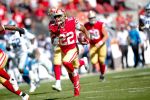 Who do you think hit the fastest over all top speed in the NFL last season?? Tyreek Hill? NOPE...none other than San Francisco 49ers RB Matt Breida at 22.7 mph.

---
Donte Moncrief To Be The Steelers #2 WR?
Jun 18 11:23 AM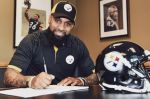 The Athletic's Mark Kaboly believes WR Donte Moncrief looks like the slam-dunk No.2 WR for the Pittsburgh Steelers this season, with 50-60 catches & 5 or 6 TD's. That's a nice fantasy value at around WR 58 currently in drafts.

---
Players Going Higher Than Rankings...
Jun 18 10:41 AM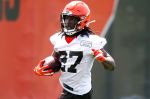 And after analyzing the FantasyPros Experts Consensus Rankings vs. ADP data, here are some players ranked significantly LOWER than their ADP...
Kareem Hunt - 57 spots lower
Eric Ebron - 22 spots lower
Jordan Howard - 21 spots lower
Patty Mahomes - 12 spots lower

---
Expert Consensus Ranking vs. ADP
Jun 17 12:16 PM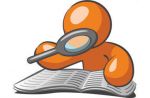 After analyzing Expert Consensus Ranking vs ADP data, here are some players ranked significantly higher than ADP...
Jordan Reed - 70 spots higher
Robert Foster - 59 spots higher
Kenny Stills - 35 spots higher
DeSean Jackson - 32 spots higher
Curtis Samuel - 30 spots higher
Marvin Jones - 28 spots higher
---
Allen Robinson Still A Spring Chicken
Jun 15 12:07 PM
Chicago Bears WR Allen Robinson is astonishingly only 25 years old.


---
From 39 to Number 1
Jun 15 11:58 AM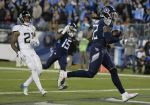 Over the first 12 games of the season Tennessee Titans RB Derrick Henry was RB 39. Over the last 4 games of the season he was RB1.

---
Marvin Jones Being Undervalued?
Jun 14 5:44 PM
Detroit Lions WR Marvin Jones was WR 5 in 2017, had a 16 game pace of WR 11 in 2018...yet is currently WR 32 in FantasyPros ECR rankings.

---
Amari Cooper in RARE company...
Jun 14 5:43 PM
Since the 1970 NFL AFL merger, only 6 players have logged more yards by the age of 25 than Amari Cooper.

---
WE ARE NOW PROVIDING DYNASTY LEAGUES!
Jun 14 1:48 PM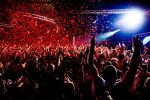 We are NOW PROVIDING DYNASTY FANTASY FOOTBALL LEAGUES!!!!!!! As fantasy football has gotten more and more popular, so have Dynasty fantasy football leagues. So we are now providing them for you!!! If you have never played in a Dynasty fantasy football league, you are missing out, these are a BLAST! Click on over to our available leagues page to join one TODAY! Here is some additional information for you on how these will be structured...
*** These leagues contain NO KICKERS OR DEFENSES!!!
*** These will all be 12 team leagues, 24 man rosters, and your starting lineup will consist of...

1 Quarterback
3 Running Backs
4 Wide Receivers
1 Tight End
2 Flex (your choice of a RB, WR or TE)
13 bench spots
(No IR Spots and No Taxi Squads)
*** So in a Dynasty league, the whole gist is that this will be your team...your baby...your potential Dynasty Tea CLICK HERE TO KEEP READING!

---
Saquon BALLIN'
Jun 12 12:20 PM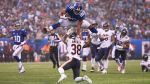 New York Giants RB Saquon Barkley had four 50-yard rushing TD's in 2018. The Giants had 3 in the previous DECADE!

---
Damien Harris To Have "Prominent Role"?
Jun 12 12:12 PM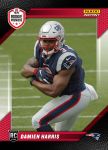 The Athletic's Jeff Howe believes third-round RB Damien Harris could earn a "prominent role."

---
Alvin Kamara/Latavius Murray
Jun 10 4:44 PM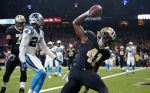 Fascinating stat - Saints RB Alvin Kamara had the 4th most carries of anyone in the NFL inside the 5 yard line in 2018. But he only had roughly 35% of his TEAMS carries inside the 5 yard line. Sounds like somebody else may be eating this year too! (cough, cough - Latavius Murray)

---
Brandin Cooks Still YOUNG...
Jun 09 10:01 AM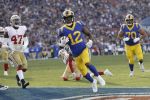 Despite 4 straight seasons of at least 1000 yards Brandin Cooks is almost the exact same age as Rams teammate Cooper Kupp AND Detroit Lions WR Kenny Golladay.
---
Julio Jones 1,400 Plus
Jun 09 9:35 AM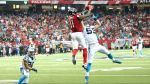 Atlanta Falcons WR Julio Jones has 5 straight years of at least 1,400 yards receiving.

---
Philip Rivers extremely consistent
Jun 08 12:33 PM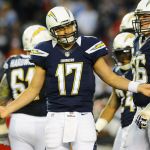 Philip Rivers Has passed for at least 4000 yards in 10 of the last 11 seasons, & at least 26 TD's every year, & 30 plus TD's in six of those years, including last year.
---
AMAZING Factoid/Statistic...
Jun 07 5:05 PM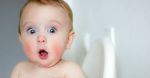 This may be one of the most interesting and fantasy relevant stats EVER. Over the last 10 years, fantasy RB's drafted in the top 12 have a 30% chance of missing at least 4 games that season. And a 1 in 6 chance of missing the entire season!

---
David Johnson At Least Top 10
Jun 06 4:42 PM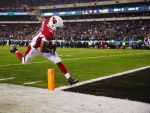 Despite many people feeling like he had an awful fantasy season last year, despite being in a moribund offense, Arizona Cardinals RB David Johnson was a top 10 fantasy RB in all formats last year.

---
Matt Lacosse Patriots Week 1 Starter??
Jun 04 5:06 PM
The Boston Herald believes all signs point to Matt LaCosse as the Patriots' starting tight end for week 1.

---
| | |
| --- | --- |
| Total 167 posts | Page of 9 Prev | Next |