Mike Florio: 40% chance Gronk returns
Jul 16 11:06 AM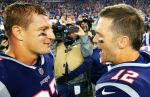 Mike Florio of Pro Football Talk is saying there is a 40% chance Gronk returns.
---
Zeke May Hold Out?
Jul 15 3:47 PM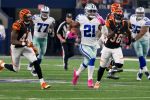 According to Pro Football Talk, he showed up for the offseason program, but RB Ezekiel Elliott may not be showing up for training camp without a new deal.

---
Derrius Guice Injured
Jul 12 3:24 PM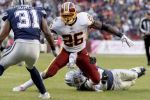 Redskins running back Derrius Guice suffered a hamstring injury and is questionable for the start of training camp, according to two sources.
---
Tyreek Hill Facing Max 4 Game Suspension?
Jun 28 9:04 AM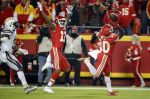 According to The Athletic an anonymous Chiefs official believes Tyreek Hill's suspension would be a max of 4 games, after having a "successful" 8 hour meeting with the league, and that Hill will join the Chiefs for training camp.

---
Matt Lacosse Patriots Week 1 Starter??
Jun 04 5:06 PM
The Boston Herald believes all signs point to Matt LaCosse as the Patriots' starting tight end for week 1.

---
Who ya got?? Damien Harris...or Sony Michel?
Jun 04 3:27 PM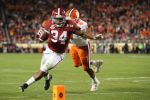 New England Patriots RBs Sony Michel and Damien Harris are competing for lead-back duties with James White locked into his role and Rex Burkhead likely viewed as a jack-of-all-trades, change-of-pace runner, according to Kevin Duffy of the Boston Herald.

---
Todd Gurley no longer the bell cow?
Jun 03 11:38 PM
Rams RB Todd Gurley's days of being 'straight-up, every-down bell cow are probably over' (via @RapSheet)
---
Damien Williams "the starter"
May 30 2:39 PM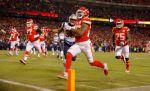 Potentially big news for Damien Williams value with drafts going on right now - offensive coordinator of the Chiefs Eric (sleeping with) Bieniemy says Williams will be the starter, & that they expect him to excel in that role.
---
Todd Gurley's knee issue a real concern?
May 26 11:37 AM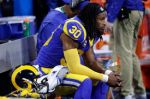 Rams RB Todd Gurley's knee issue is a real concern for him and the team, per Jay Glazer.

https://twitter.com/pfootballchase/status/1132283932999860224






---
$19.99 Leagues Now Available!!!!!!!
May 21 11:21 AM
We are NOW OFFERING $19.99 leagues! These will be available only via the Best Ball Leagues format, and are up and running NOW! We will be providing both Email/Slow Drafts, as well as Live Drafts. We will only be providing these until around mid July, so join and start drafting in some TODAY!!!

---
Damien Harris the New England running back to own?
May 17 1:31 PM
New England Patriots beat writer Ben Volin believes that former Alabama RB Damien Harris is the best fantasy value among Pats RB's this season, and may be the short yardage and early down back over Sony Michel.
---
Doug Baldwin is retiring from the NFL.
May 13 9:59 AM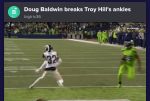 Dude was quick as a cat (see attached juke move via the link below), and a perennial number one fantasy receiver the last several years of his NFL career.
https://m.imgur.com/gallery/v6x2D
---
The Seahawks have released Doug Baldwin
May 09 5:58 PM
The Seahawks have released Doug Baldwin.
---
BREAKING NEWS - Carson Wentz Done For The Year?
Dec 12 11:30 AM
Carson Wentz will not play this week, and depending upon the severity of his injury, may be done for the 2018 season.
---
Emmanuel Sanders torn achilles out for the year
Dec 05 2:34 PM
It is being reported that Emmanuel Sanders has torn his Achilles and will be out for the year.
---
James Conner Out For Week 14
Dec 04 4:11 PM
James Conner has already been ruled out for week 14.
---
Injury news : Melvin Gordon, Andy Dalton, Jack Doyle, Marvin Jones
Nov 26 4:49 PM
Andy Dalton, Marvin Jones and Jack Doyle will be out for the season, Melvin Gordon is scheduled to miss a few weeks.
Also, in non-injury related news, Blake Bortles has been benched for Cody Kessler.
---
Potential Awful News Here - Dez Bryant Torn Achilles
Nov 09 3:59 PM
The team fears he may have torn his achilles in practice today. Awful news for him.
---
Breaking Leveon Bell News...
Nov 08 11:36 AM
Per Ian Rappaport of the NFL - This is fascinating. Sounds like Le'Veon Bell and his agent did not realize until it was reported (by @TomPelissero) that Bell's tag next year would be the QB tag for about $25M. This makes it less likely that he shows because it's either transition tag or free agent.
---
Geronimo Allison to I.R.
Nov 06 4:09 PM
Will miss remainder of fantasy regular season.
---
| | |
| --- | --- |
| Total 66 posts | Page of 4 Prev | Next |