Derrius Guice To Miss Some Time?
Sep 09 12:41 PM
Sources: #Redskins RB Derrius Guice had an MRI this morning on the other, non-ACL knee and he's likely to miss some time. The hope is he does not need surgery, but the team is doing a full evaluation. He gained 18 yards on 10 carries, looking like he wasn't himself. - per Ian Rappa
---
Zeke Signs
Sep 04 11:51 AM
We'll put this up here JUST in case you have been under a rock today - The #Cowboys & RB Ezekiel Elliott agree on a 6-year, $90M extension that makes him the highest-paid RB in the NFL, sources tell me and @SlaterNFL. Roughly half guaranteed. In all, it's $103M over 8 years—the 1st Cowboy to eclipse $100M in total value, the richest RB contract.
---
Kenyan Drake to see a lot of work?
Sep 04 11:13 AM
"Kenyan Drake is as talented as anybody on our team. We are looking forward to getting him a lot of touches this week." - Brian Flores.
---
Michael Crabtree starting in Arizona?
Sep 03 8:07 PM
No huge surprises on the first @AZCardinals depth chart released for the regular season. Michael Crabtree listed as starting WR along with Christian Kirk and Fitz. Byron Murphy listed as starting CB with Tramaine Brock. Kirk listed as PR, Andy Isabella listed as KOR - per Darren Urban.
---
Dante Pettis listed as starter
Sep 03 4:48 PM
Dante Pettis and Marquise Goodwin to Start at WR, per RotoGrinders.
---
DK Metcalf Week 1 Starter
Sep 03 3:55 PM
DK Metcalf is listed as a Week 1 starter for the Seahawks, per Joe Fann.
---
Redskins offense carry wise to go through Guice?
Sep 03 1:55 PM
ICYMI Jay Gruden on Derrius Guice: "The offense, carries-wise, will probably go through him, pretty much."
---
The Colts commit to Jacoby Brissett
Sep 02 5:27 PM
Per Ian Rappaport - #Colts and QB Jacoby Brissett have agreed to terms on a 2-year extension worth $30M, source said. He gets $20M guaranteed at signing. Some security for the new Indy starter.
---
Melvin Gordon Won't Report For Week 1
Sep 02 2:33 PM
Far from shocking news here at this point, but ESPN's Jeremy Fowler reports Melvin Gordon does not plan to report for week 1.
---
Derrius Guice to get more carries than AP
Sep 02 2:13 PM
Coach Jay Gruden told reporters Monday that Derrius Guice will get more carries than Adrian Peterson.
---
McCoy and Damien Williams costarters?
Sep 02 1:24 PM
Reid says he considers both Damien Williams and McCoy to be starters. "its a great situation for both them and the football team."
---
Cam newton good to go for week one
Sep 02 12:55 PM
GM Marty Hurney declared Newton "good to go" for the team's opener Sunday Sunday versus the Rams.
---
Ezekiel Elliott contract hit a snag?
Sep 02 10:23 AM
Per Evan Silva - Cowboys pulling RB off their practice squad furthers indications Ezekiel Elliott talks hit a snag on Sunday.
Their active RBs at present are:
1. Tony Pollard
2. Alfred Morris
CLICK HERE TO KEEP READING!

---
Le'Veon Bell and Ty Montgomery to share workload early in the season?
Aug 25 9:19 AM
Longtime #Jets reporter @RichCimini suggests Ty Montgomery & LeVeon Bell will "share the load" early in the season while Bell works on shaking off rust & establishing timing with NYJ's offensive line:
---
FOLLOW US ON TWITTER! @BestFantasyFL
Aug 21 1:44 AM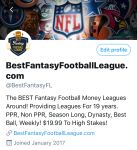 We post there the most often, that's the best place for breaking news and fantasy tidbits…
---
More on the Antonio Brown issue…
Aug 19 8:30 AM
See attachment.
---
Case Keenum to start week one?
Aug 18 4:12 PM
It's down to Keenum and rookie Dwayne Haskins because Colt McCoy (leg) isn't expected to be ready for weeks. Haskins will need a strong third preseason game to receive the start Week 1, but even if he doesn't get the starting nod, we should see plenty of Haskins in 2019. Keenum is nothing more than a veteran bridge quarterback and the Redskins view Haskins as their franchise quarterback. - per ESPN's Adam Schefter
---
Chris Carson to get 2/3 of the workload?
Aug 14 3:11 PM
"Rashaad Penny will be involved but he's the (#Seahawks) clear No. 2 in the 1-2 punch between him and Chris Carson. I anticipate Carson taking at least two-thirds of the workload." Via @Joe_Fann:
---
Drake Out For Remainder Of Preseason
Aug 14 3:09 PM
"Until (Kenyan) Drake returns, the (Dolphins) starting running back job belongs to (Kalen) Ballage, who ripped off another long touchdown run in Wednesday's practice."
Drake questionable for Week 1 with a right foot injury:
---
Antonio Callaway Suspended First 4 Games
Aug 10 1:09 PM
Browns WR Antonio Callaway has been suspended 4 games for violating the NFL's substance abuse policy, according to NFL Network's Ian Rapoport. Callaway has already unsuccessfully tried to appeal the ban. Callaway has been running behind WR Rashard Higgins in training camp. Higgins will open the season as Cleveland's #3 WR.

---
| | |
| --- | --- |
| Total 141 posts | Page of 8 Prev | Next |